16th October 2015 at the Fair of Regions and Tourist Products Tour Salon was a gala, during which, the contest for the Best Tourist Product.
The competition was entered by the Regional Tourist Organisations 46 tourist products and 9 candidates for a Golden Certificate. In an open ballot jury chose the 10 best tourism products, which have been awarded the Certificate of POT and awarded one award.
Light.Move.Festival as only received two certificates:
- Best Tourist Product 2015. for the Festival of Kinetic Light Art Light.Move.Festival.,
-Best Tourist Product of 2015. by Internet users for Kinetic Light Art Festival Light.Move.Festival.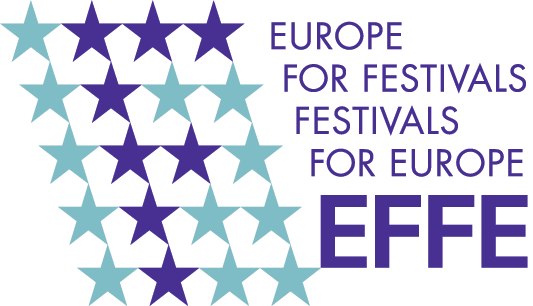 Decision of the Coordinating Committee EFFE – Europe for festivals, music festivals in Europe, Light. Move. Festival. He received a badge EFFE – Europe for Festivals, Festivals for Europe. Thanks to the decision of the international jury, LMF, along with other distinguished festivals from 31 European countries, will represent the first generation of ambassadors of the initiative in 2015-2016.
7th March at the Lodz Academy of Fine Arts held the awards ceremony for the Year 2014 Łodzianian the votes of the audience selected five nominees and members of the chapter in a secret ballot for the first time in history, awarded the two deserved to Lodz characters – Beata Konieczniak – Wizard Kinetic Art Festival of Light – Light .Move.Festival.Łódź and Wojciech Szrajber director of the hospital name Copernicus.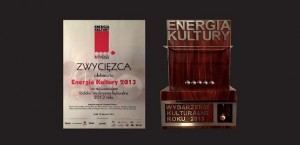 On 10th of January 2014 Festival was honored with the prestigious award in the 5th edition of "CULTURE ENERGY" plebiscite. Large format projections on the Square of Freedom during the 3rd edition of Light. Move. Festival. Became the most important cultural event of 2013 in Łódź. The plebiscite was organized by: National Centre for Culture (NCK) Gazeta Wyborcza Wytwórnia Club Toya TV.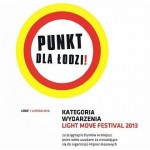 On the 7th of February 2014 Light. Move. Festival. 2013 received "POINT FOR LÓDŹ" – plebiscite appreciating the initiatives well to be emulated. The Price was given for gathering crowds in the place mostly concerned as impossible to be used for the mass events.
On the 12 of February 2014 the most interesting events/people/bands/places were awarded in "STICKING PLASTER OF CULTURE" plebiscite. Light. Move. Festival.Łódź.2013 was the winner of "Mainstream of the year" category. The organizer was Plaster Łódzki internet cultural portal.
Thank you for all your votes, good words and support. Thanks to you and moments like this we know that we know that it is worthy to do this Festival!